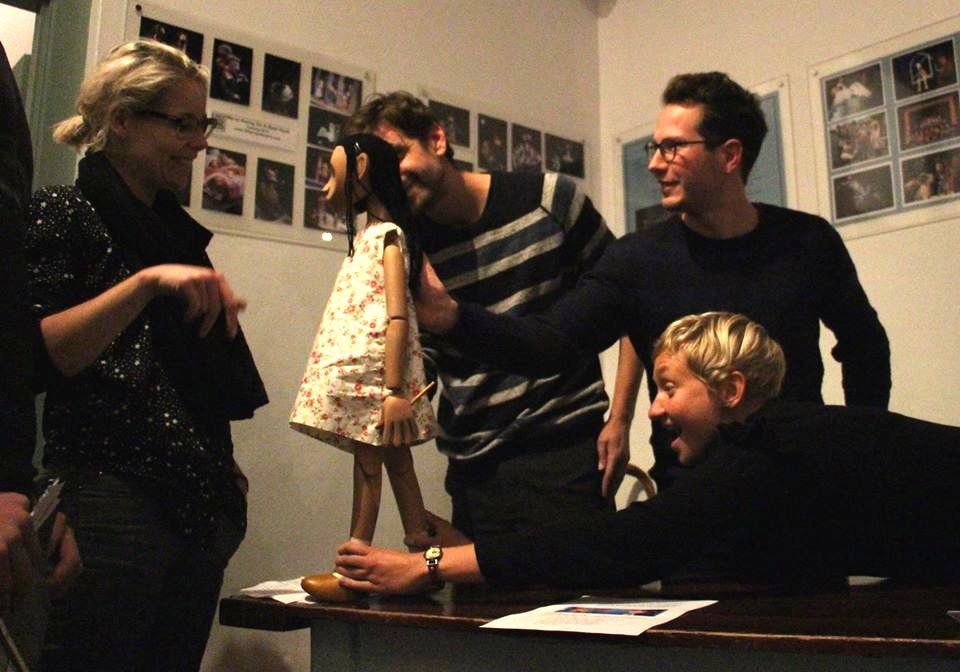 I attended this evening of practical work and discussion for puppetry practitioners, writers and dramaturges, led by the 2012 Little Angel Artistic Associate Rachel Warr. The evening aimed to explore devising techniques and issues around puppetry in particular the use of text and movement. It was also an opportunity to bring together a range of creative practitioners including writers, directors, makers and performers with a key interest in puppetry and add these to a growing network being built by Rachel.
The Little Angel Theatre is a great space with real character and a clear community of artists. The walls and cabinets are filled with imagery and puppets from past shows and offer an exciting setting for this kind of event. The Theatre itself is slightly hidden, off the main street in a lovely little square, surrounded by old very quaint Victorian style buildings. The main auditorium is small with long benches for seats and on this evening each row filled with adults to a comfortable yet busy capacity. On the stage the set for fantastic Mr Fox provided an interesting and quite powerful backdrop for the host Rachel Warr and two guest speakers Toby Olié and Finn Caldwell. Together they shared their insights into their creative process of their hit show 'Elephantom', which began life with Little Angel Theatre's R&D scheme, INCUBATE, and went on to have a sold out seasons at the National Theatre and the West End. They had also been involved in much of the puppet development which took place in the devising stages of War Horse in conjunction with HandSpring Puppet Company.
This sharing of a creative process was an insightful and thought provoking session. Their performance experience and close working relationship was clearly apparent as they delivered their discussion with an engaging and often comical double act stye. They talked about both physical materials used to develop their puppets and the creative devising process used to develop the story, movement and overall performance. It was fascinating to hear the continuous cycle of development which starts with a story or theme and works through a process of performance and materials. They stressed the need to have early puppet prototypes which inform the narrative and develop as the performance and ideas develop. For example the very specific type of rip stock fabric used to make their Elephantom puppet was crucial to its movement and thus the movement of the performers. They talked about how to go about adapting a script and breaking down a story into no more than 5 bullet points, anything more, they stressed, became too complicated.
The lecture style presentation led to a wider discussion with the audience which focused on the question 'why use puppets' and 'what is different when you use a puppet?'. This was really interesting because the choice to use a puppet rather than a performer does send a clear message. At a basic level Puppets might be used in a practical sense because a character is stylistically impossible to transform on a human, or needs to perform something impossible like flying or demonstrates an impossible scale. However deeper reasons may include the idea of manipulation, a physical demonstration of thoughts or an exploration of movement rather than text which may be more apparent with a puppet.
This led to a discussion about the 'life' of a puppet which is crucial to its performance and character but applied by a human actor. Often puppets don't speak with a voice or moving mouth but still must communicate. Every movement must be significant and clearly demonstrate a thought, this becomes the language of the show. The speakers stressed their dislike of actors who 'translate' a puppet instead of letting the puppet have its own voice. Equally the need to allow puppet animals to be real animals not humanised 'disney' representations. As a result scripts often include more stage directions than actual text.
The summery of the discussion explored the need to discover 'what a puppet can do' rather than worry about what it cant do. This comes back to the cycle of devising where both text and materials influence the piece. The importance of exploring how the materials move and development of character which works to the 'things' strengths. To be prepared to change ideas and text to fit with this developing character. Ultimately its a process of 'give and take' and all about 'playing'.
Following the panel discussion we were all treated to a practical session where we could move around the building and experience different puppet demonstrations and discussions. This included shadow puppets, hand puppets, marionettes, bun raku and a writers group. We were given texts to explore but also free rein to challenge the puppeteers and really explore the potential of these different styles of puppets. The skill, passion and knowledge demonstrated by all the puppeteers was fantastic and presented a clear community of puppet loving people.
This was a thoroughly inspiring evening and led to some interesting networking with like minded individuals and also some key inspiration towards my own study and interest in puppetry and devised theatre.