DEparture lounge was a festival of contemporary performance hosted by Derby Theatre. I was delighted to be accepted to the Scratch That Itch programme on the Sunday with my puppet show Pupi part II, and also keen to see what else was on offer over the weekend of events.
There was a busy line up of workshops, discussions, networking opportunities and performances. This provided a hefty bank of inspiration and a fantastic chance to meet or catch up with creative practitioners from the region. With many events sold out it seemed this festival had really caught people's attending and even horrendous weather wasn't putting people off.
I took part in this half day workshop led by the Artistic Director of The Paper Birds, Jemma McDonnell.
On their website the company describe their work:
The Paper Birds strive to create and share devised work that is important; work that is culturally, socially and politically observational and conversationally urgent. Our productions will always emerge from a female perspective and often this female voice will prioritise stories of women.
I was intrigued by there work, particularly their interests in issue based themes, devising processes and use of verbatim text gathered from primary research.
The workshop was practical, well paced and insightful. As a group of around 20 predominantly performers we undertook drama based tasks, games and activities. These included warm up games to bond the group and activate bodies and voices then a series of longer activities exploring characterisation, the importance of a balanced argument when exploring issues and use of verbatim text.
Key Activities:

In a group of 4 one person talks direct to another facing them while the other 2 ask different simple questions in each of the speakers ears. Developed by having the questioners act as extreme opinions of positive and negative on the same issue.
Talk about an issue to partner while they scribe for approximately one page of text. Read this text to your partner. Speak this text with your eyes shut while your partner tries to imitate and remember your mannerisms. Your partner reads the text as you.
Swap autonomously around the group. Read a text and create an exaggerated character using that text. Read the texts again performing as the original speaker, the imitator and the exaggerated character.
Edit text to emphasise the important aspects using rewind, fast forward and repeat tools and actions.
It was fascinating to explore character in this way and consider in performance how we represent individuals particularly when they are based on real people. As an audience we recognise when someone is real, we enjoy experiencing the exaggerated character and see the potential humour, but usually in theatre we experience the imitator. What does this mean and how do we gain a balance when devising?
Jemma spoke openly about the companies work and developmental route, how they came to create issue based work and become an internationally touring company. This was an inspiring and thought provoking session which triggered many ideas which linked to current strands of research.
Performance: I'll Keep Waiting for the Ice Cream van to Come by Old Salt Theatre
A performance inspired by the iconic British Ice Cream Van and set in a genuine Ice cream van complete with ice creams.
This was a highly entertaining show with some lovely ideas and links to the traditional British seaside, romanticised childhood memories, politics and history. Cleverly performed utilising every aspect the Ice Cream Van. Even heavy rain and a cold breeze did not hamper this outdoor performance, indeed this kind of added to the effect of typical British summer time.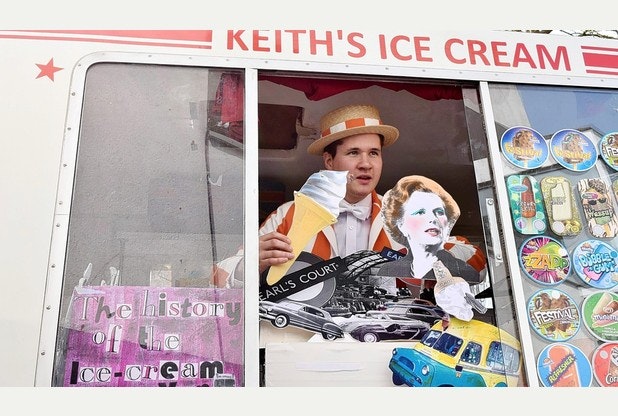 Performances: Unfinished Business
Derby Theatre supports a number of small to mid scale companies each year through their In Good Company programme. This includes access to resources such as rehearsal and office space, opportunities to perform and professional development. Unfinished Business saw four of these companies present work which was developed more than a standard scratch but still not quite complete. I saw two of these shows. JOAN, Part of Derby Theatre's RETOLD series
Conceived and directed by Lucy Skilbeck and Maison Foo's The Grandad Project. Both these pieces utilised the flexible studio space to full effect working in the round with quirky mix matched chairs and elements of audience interaction. The extremely effective and powerful solo performance in JOAN made this piece really stand out as something special and I would be very keen to see the finished show to see if this ironed out the few elements of confusion in the narrative.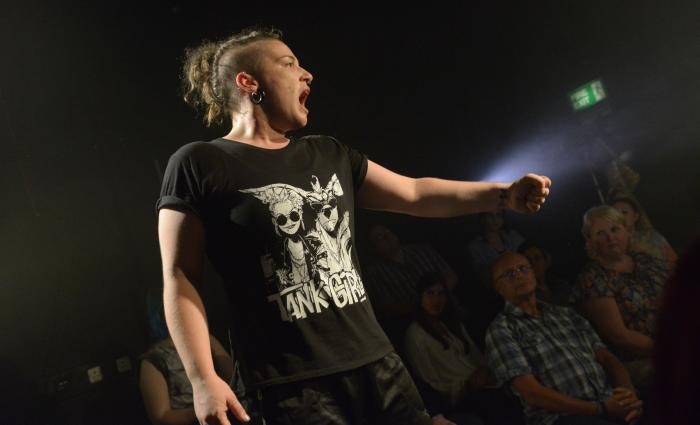 The Grandad Project, had some really lovely ideas and background stories as its founding inspiration, there was great use of props, object theatre and live video. An engaging and interactive audience performer relationship was well established and the visual space was lovely. The sense of nostalgia was really nice but generally it felt it lacked a clear direction, as an audience we wanted to know 'why?' this story was being told and to feel a little more tension or drama. Maison Foo is a company who's work I really like and I have seen how some of their other shows have developed so am confident this piece will really blossom through the final stages of development.